'Bush n Bay'
Virtual Adventure Challenge
The 'Bush n Bay' virtual adventure challenge is a multi discipline event to encourage participants of all ability levels to get out, get active and explore the great outdoors. The Virtual challenge is for Adventurers to ride, run, walk or skip, uphill, downhill, off road, on road, on the beach, on water or even in water!

WHY - These virtual challenges are more about being active, having fun and keeping our motivation going rather than competition and are designed to get us outdoors with our friends when we need it most.


COVID 19 - With restrictions being lifted on outdoor group numbers in certain states, you may want to get a small together to tackle the Challenge together! All while keeping social distancing, of course!


3 STAGES
Participants complete eight hours of activity in three stages over the month of July:
Stage 1: Run/Hike – 2.5 hours - must visit one lookout or high point and include one 30 minute off road effort.
Stage 2: Road Bike / (MTB) – 4 hours - must visit one lookout or high point, cross one bridge, and visit one point of interest
Stage 3: Use Your Imagination – 1.5 hours - this can be any active activity you can think of! For example – rowing machine, stepper, cross trainer, kayaking, horse riding, beach/bush walking, in the playground, skate park, playing a Team sport etc, etc.  Let's see what you can come up with!
You can break up each stage into smaller stages (i.e. four 1-hour bike rides, five 30-minute runs).
The challenge must be completed by July 31st, 2020. This is a Virtual Challenge, NOT an official race and you do so at your own risk and remember to keep your space! Plan to complete this challenge by yourself, with friends, colleagues, Team mates or family. Your 'Bush n Bay' Virtual Challenge can start anytime, so Register Today, make a plan and get started on your Adventure!
You have the 'whole' of July to get it Done!!


SWAG BAG
All official 'Bush and Bay' Adventure finishers will receive their Swag Bag containing:
Bush n Bay custom medal
Bush n Bay wristband
Bush n Bay face shield
Compress Sport lightweight back pack
Compress Sport sports towel
Naked Wines $100 gift voucher (one per household, for over 18s use only, conditions apply) goodies will be posted out on Monday, August 3rd, 2020.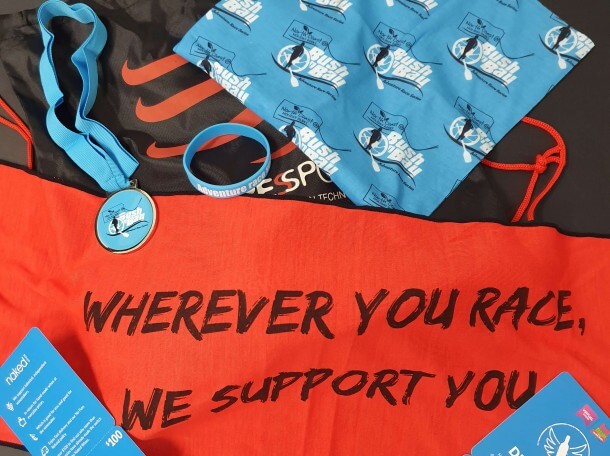 Special prize categories include:
Most elevation gained during the run/hike stage
Most interesting bush/beach run during the run/hike stage
Longest single bike ride, on mtb and road bike
Most creative Stage 3 effort

Best social media post with the most likes and comments where Centaur Outdoor Events is tagged in your post. This can be on the event FB page or on your personal page. (but please let us know)